US expert: Be prepared for 2nd wave of outbreak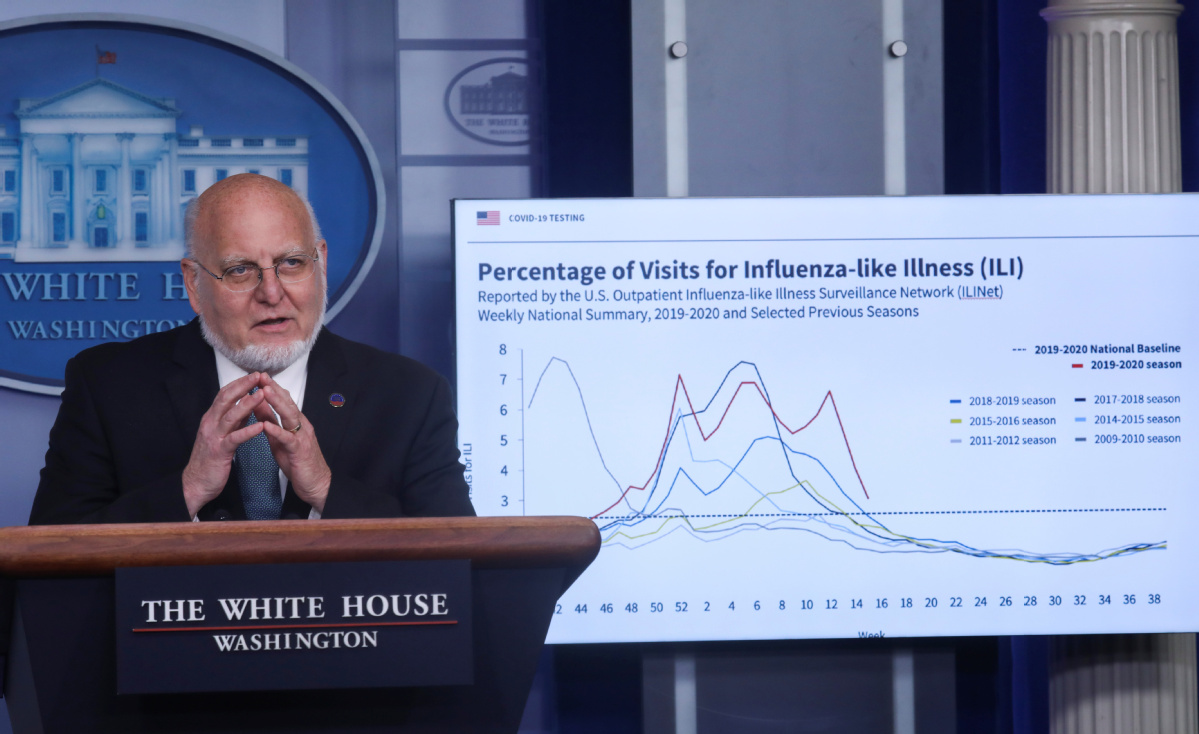 A resurgence of COVID-19 next winter could hit the United States healthcare system even harder than the original outbreak has, the director of the Centers for Disease Control and Prevention has warned.
If the virus has a second wave that coincides with the start of the flu season-which is responsible for thousands of US deaths per year-then the nation's healthcare system will likely be even more overwhelmed and undersupplied than it has been during the current outbreak of novel coronavirus in the US, CDC Director Robert Redfield told The Washington Post on Tuesday.
"There's a possibility that the assault of the virus on our nation next winter will actually be even more difficult than the one we just went through as we're going to have the flu epidemic and the coronavirus epidemic at the same time," Redfield said.
But US President Donald Trump summoned Redfield on Wednesday to clarify his remark. Trump said on social media that the health expert was misquoted and would be putting out a statement.
Redfield, however, said he was quoted accurately."I think it's really important to emphasize what I didn't say: I didn't say that this was going to be worse," Redfield said.
COVID-19 has infected 842,624 people and killed 46,785 people across the country as of early Wednesday, according to a Johns Hopkins University tally. The outbreak has overwhelmed hospitals and exposed huge shortages of test kits and personal protective equipment like masks and gowns for healthcare workers.
Trump praised governors on Wednesday for working to open their states' economies but also said he strongly disagreed with Georgia's push to reopen amid the novel coronavirus pandemic.
Trump said fellow Republican Brian Kemp of Georgia had "gone too far" by allowing barbershops, nail salons, tattoo parlors, beauty salons, spas and other businesses to open later this week.
"I think it's too soon," Trump said, adding that he had told Kemp, but said,"He has to do what he thinks is right."
Trump's top adviser on the pandemic, Anthony Fauci, said mitigation strategies were working, setting the stage for states to reopen. He urged Kemp to proceed with caution.
"If I were advising the governor, I would tell him, be careful, I would tell him not to just turn the switch on and go," Fauci said, adding that Georgia could see a rebound of the virus, further harming the state's economy.
Fauci also said the country does need to be prepared for a second wave.
"We will have coronavirus in the fall. I am convinced of that," said Fauci, director of the National Institute of Allergy and Infectious Diseases.
Also on Wednesday, the World Health Organization said there is still a long way to go in the battle against COVID-19, as the number of global cases approached 2.5 million and the death toll exceeded 160,000.
WHO Director-General Tedros Adhanom Ghebreyesus said different trends are occurring in different regions, and even within regions.
Meanwhile, most countries are still in the early stages of their epidemics, and some that were affected early in the pandemic are now starting to see a resurgence in cases.
"Make no mistake, we have a long way to go," Tedros said. "This virus will be with us for a long time."
Tedros said stay-at-home orders and other physical distancing measures have successfully suppressed transmission in many countries.
"But this virus remains extremely dangerous," he said. "Early evidence suggests most of the world's population remains susceptible. That means epidemics can easily reignite."
The WHO chief warned against "complacency" and noted that he understands that people in countries with stay-at-home orders are becoming frustrated with being confined to their homes for weeks on end. He said they want to get on with their lives and protect their livelihoods.
"But the world will not and cannot go back to the way things were," Tedros said."There must be a 'new normal'-a world that is healthier, safer and better prepared."
The WHO recommends that the same public health measures it has been advocating since the beginning of the pandemic must remain the backbone of the response in all countries. These include finding every case, isolating every case, testing every case, caring for every case, and tracing and quarantining every contact.
Pan Mengqi in Beijing and agencies contributed to this story.